New Year Resolutions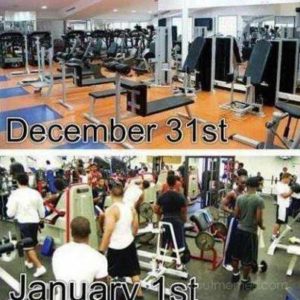 Happiest of New Years to one and all. This week we'd like to chat a minute about how to stay on track with your New Year Resolutions.
So many people make a lot of New Year Resolutions and can never seem to be able to keep them up. Most people make getting into better shape their number one New Year Resolutions and by the time March rolls around their frustrated with a lack of progress, their not going to the gym as much and their just about ready to give it up.
This normally happens because when people get really excited about getting into shape they dive in head first without any plan or really any idea of how to go about it. So after a while of seeing no progress toward their goals, they kinda figure "why bother?"
Joining a fitness program, like our HiitFit program, is the quickest easiest way of avoiding this since it already got a built in structure to keep someone moving forward. But here's some easy ways to keep yourself on track as the New Year gets under way…
Write your goals down.
By putting pen to paper you have a visual record of what you'd like to accomplish. You can use your phone but the act of actually writing it down does really help make it more "real" for you.
Set an alarm or a reminder for your workouts in your phone.
Having a small reminder to go smash it a t gym will help you keep from missing workouts. Anything will work but the one that seems to be the most successful is a song that you really enjoy working out to and gets you pumped up.
Make a couple friends at your gym and schedule workout meet ups.
Having some workout buddies you are expecting you to show up and train together is a great way to not only keep yourself accountable but also make hitting a class more fun.
What ever you can do to help keep yourself moving towards your goals, go for it, remember Rome wasn't built in a day but you will reach your goals if your consistent and follow your plan.
Have a great week guys and we'll see you in the gym!!!

Latest posts by Synergy Martial Arts & Fitness
(see all)