Get your test on!!!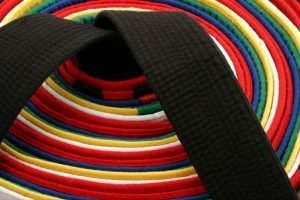 Hey guys, its time to Get your test on!!!
Coming up in just a couple of weeks, on Saturday the 30th, all of the TacTecs and Kids Karate classes will be holding their quarterly belt test.
Like normal, the test will be held at the normal class time but just in case here are those times:
Kids Karate Basic at 10:30 a.m.
Adults all levels at 11:30 a.m.
and
Kids Karate Advanced at 1:00 p.m.
Test Prep times are available at:
For Adults
Mondays at 7:00 p.m.
Tuesdays at 1:30 p.m.
and
Saturdays at 12:30 p.m.
For Kids
Tuesdays at 6:30 p.m.
Saturdays at 2:00 p.m.
We here at Synergy Martial Arts and Fitness wish everyone testing the best of luck, we know how hard you work on being the best you can be and we're so very proud of each and every one of you.
If you're really wanting to be the most prepared you can possibly be, try to get a couple of private lessons in. Private lessons are the most effective and fastest way to get ready for that next step in your journey to Black Belt. You can focus on exactly what you need to know for the test, you can focus specifically on what you need to work on and make 100% sure you know that you KNOW the material making the test a breeze.
Final notes:
Coming soon….Tactical Knife Response Specialty Course
This course will cover the tools necessary to survive a violent attack with a blade. If you happened to have attend the Active Shooter Response Course you have an idea of how the knife course will be presented, in a easy to follow "layered" format which is the fastest way you can hard wire these skills into your nervous system so you can add them to your "toolbox" as quickly as possible.
Look for more details in the weeks to come…
Alrighty guys,
Here's wishing you a fantastic rest of your week and remember as always…YOU ROCK!!!
www.SynergyMartialArtsandFitness.com

Latest posts by Synergy Martial Arts & Fitness
(see all)