Halloween Awareness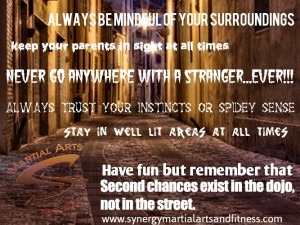 Hi there everyone!
With the Halloween Holiday fast approaching we here at Synergy wanted to take a sec to go over a few things that can make your trick or treating safer.
So here we go:
Make sure that if you go trick or treating that you know the neighborhood very well.
Never…ever….EVER go alone!!! Always go with a parent or an adult you and your parents know and trust.
Stay in well lit and well populated areas, if you don't see anyone else trick or treating…it's time to go.
Listen to your instincts or your "spidey sense". If something feels weird…its probably a good idea to leave.
Go when it's still light outside.
Have your parents check your candy before you eat anything.
And last but not least…in order to guarantee that you have the funnest and safest Halloween possible come celebrate with us here at Synergy!
Halloween Saturday the 31st from 10:30 to 1:30
Costumes, games and candy!!!
Bring a friend and play some "spooky" games with Mr. P and Miss Char, and by all means bring some candy to share and be ready to pose for the "groovy ghoulie" raffle photo shoot.
Take care all, see ya next week!
www.synergymartialartsandfitness.com

Latest posts by Synergy Martial Arts & Fitness
(see all)