Happy Turkey Day!!!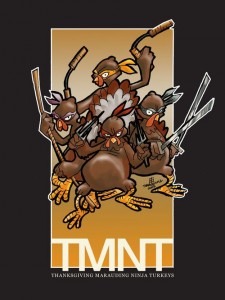 Hey there everyone,
So real quick we just wanted to go over the game plan for this week, what with the Holiday coming up soon.
Synergy will be closed this coming Thursday thru Sunday in observance for Thanksgiving with the slight exception of…
The Annual Happy Turkey Day Turkey Burn!
The Turkey Burn class is a specialty workout class consisting of a 30 minute HitFit cardio Kickboxing section, a 30 minute NuYu advanced metabolic bootcamp portion and finishing up with a tummy toning 30 minute core workout.
The Turkey Burn class is specifically designed to burn off approximately the same amount of calories that the average Thanksgiving dinner comes out to.
There's absolutely no additional charge for this class and everybody is highly encouraged to bring along any family or friends who might be interested.
It's going down on Black Friday @ 10:00 a.m.
And on a side note, we'd like to say a huge thank you to everyone who came out to the Active Shooter Response Course, everyone looked awesome and did a fantastic job!
Several more these specialty seminars are in the works and just as a reminder we do take request.
Also, with the new year approaching rapidly were pleased to announce some changes coming this January:
Two additional NuYu Bootcamps per week
Two of Dr. Ricks Krav Maga-Dirty Boxing-Kali program per week
The Kali class is going to be changing formats to allow a deeper understanding of weaponry
And a new ongoing specialty Tactical class happening once to twice a month
Have a wonderful Holiday guys!
www.synergymartialartsandfitness.com

Latest posts by Synergy Martial Arts & Fitness
(see all)