Honor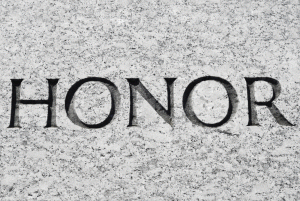 Hey guys, hope you had a wonderful three day weekend! This time around we'd like to chat a little bit about Honor.
Honor is showing respect, keeping your word or doing what is right. Being honorable is not going behinds someones back but rather being strong enough to voice your opinion or confront someone to their face. Having honor is fulfilling an obligation or coming thru on an agreement.
"There is no dishonor in losing the race. There is only dishonor in not racing because you are afraid to lose."  – Garth Stein

Being an honorable person means stepping up and apologizing when you've made a mistake.
"A true gentleman is one that apologizes anyways, even though he has not offended someone intentionally. He is in a class all of his own because he knows the value of his honor." – Sharron Alder
As Martial Artist this has always been one of the most important tenants. A code to guide and define the training that we out ourselves thru. Even though we train to defend ourselves even in the most violent of encounters, it's this principle that keeps us on the warriors path and away from misusing our abilities.
You can always tell a true Martial Artist by how they conduct themselves. Do they lie and betray people? Do they hide their true intentions or are they open about what they want and what their plans are?
"…Next time you're faced with a choice, do the right thing. It hurts everyone less in the long run."  – Wendelin Van Draanen

Having honor is pretty easy, show up when you say you will, keep your promises and treat yourself and others with respect. This is the truest hallmark of an Martial Artist.
Side note:
We're proud to say we are hosting a seminar with Scott Babb of Libre Fighting and Lee Morrisson of Urban Combatives on September 30th and October 1st. This is a must not miss event for anyone interested in taking their real world self defense training to the next level! Contact Cassidy Lee @ Apicemrapaxco@yahoo.com to register…hurry space is limited!!!
Alright guys, have a great week guys and we'll see you in class!
www.synergymartialartsandfitness.com

Latest posts by Synergy Martial Arts & Fitness
(see all)