"Kick or Treat" Halloween Party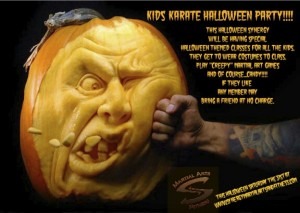 Hey guys!
With Halloween being this Saturday, Synergy is having our annual Halloween kids spooktascular extravaganza!!!
This Saturday at 10:30 and at 1:00 the regular kids karate classes will undergo a metamorphosis into a howling fun time with costumes, candy and martial arts themed games such as:
Exploding bag O' doom ( or candy )
Zombie evasion
Werewolf crawl
and many more…
Everyone is highly encouraged to wear a costume and feel free to bring your child's friends!
Side note: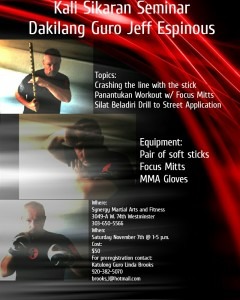 The Kali, HitFit and DNA classes are going to canceled Saturday…just FYI
And coming to a Dojo near you next month:
Saturday November 7th
Kali Sikaran Seminar with world class Instructor Dakilang Guro Jeff Espinous
From 1:00 to 5:00 p.m.
Don't miss out on this chance to train with one of the best Filipino Instructors from Europe
Saturday November 21st
Active Shooter Response Course
From 2:00 to 4:00 p.m.
How to deal with a attacker armed with a firearm. This is the same course Dr. Rick teaches to Military Special Forces, Law Enforcement and Security personnel. (side note as a public service the normal price of $1000 per person has been drastically cut to only $25 preregistration/$40 at the door.)
And last but certainly not least, by popular demand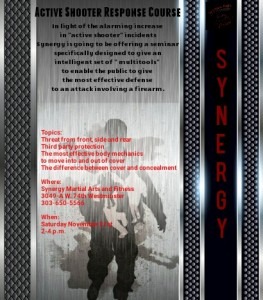 our resident fitness expert, Dr. Rick is going to conduct the much loved (dreaded) Turkey Burn class the Friday after Thanksgiving. Tune into future blog post for all the gory details!!!
Thanks again everyone and have a happy and scary Halloween!
www.synergymartialartsandfitness.com
"Kick or Treat" Halloween Party

Latest posts by Synergy Martial Arts & Fitness
(see all)