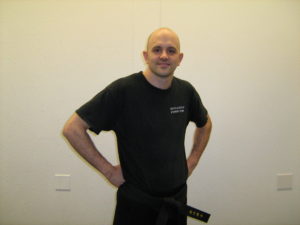 Head instructor Scott Pedersen
From Dayna Small
Synergy Martial Arts & Fitness is "Home away from Home" for our family. Immediately upon walking through the doors, you get a sense that you belong regardless of your level of fitness or prior martial arts knowledge. Scott is keen in understanding how to approach everyone's needs individually. It is challenging and FUN!
Rated 5.0 out of 5.0 on Google Maps By krhysling
"I've tried many different martial arts over the years… lessons with Scott are the most practical and realistic I've ever encountered. Scott is a fantastic teacher and his friendly demeanor and relaxed teaching style make lessons something to look forward to. I highly recommend this school!"
On City Voter by Dave C.
"My young son recently started training and already we are seeing an improvement in his self confidence, balance, and strength. Scott, and the other instructors are very patient, very caring, and have the well being of students in mind, as opposed to some of the other places we looked into that only care about how much you're paying them."
Rated 5.0 out of 5.0 on City Search by onewop
"I had taken lessons from almost all the big schools in town before going to Scott.  If you want to learn serious self defense, in a safe environment, this is the school to call."
Rated 5 out of 5 stars Dojo Locator by Budoguy
Best in town!!!!
– Quality of Instruction: Excellent
– Other aspects: Excellent
– Recommended: Yes
"I've been training for most of my life so I feel qualified to say that Synergy is by far the best school with the most knowledgeable instructors I've ever trained with.  You have what is in my opinion the best place to train in Denver."
Rated 5.0 out of 5.0 on City Search by kenpochick
"I walk in feeling excited and ready to learn and walk out feeling very satisfied."
From FaceBook, Donna Parker
"Awesome people with great ENERGY!"
Rated 5.0 out of 5.0 on Dex Knows by Theresa
"Scott Pedersen is a great instructor." "My fitness level has increases tremendously." "I feel more confident…" "It's been fun as well. Every class has something different. I'm never bored. Excellent job, Mr. Pedersen!!"
From M. Metcalf, New York
"Many thanks to Scott Pedersen for the past 3 months of exceptional training. Mr. Pedersen and his staff thoroughly explain the how's and why's of each technique, as well as the possible counters etc. A depth of understanding not commonly shared by many instructors."
From Yelp, Jorge O.
"Very good instruction, without a doubt the best place to be trained in Colorado.  I have been in other gyms and it doesn't compare, the trainers are great and knowledgeable and create a very good feeling atmosphere."
Rated 5.0 out of 5.0 on Google Maps By rooterphd
"I have always been interested in martial arts and wanted to train but could never find a school that taught practical application in its teachings."
From Yelp, Alex M.
"It is a positive place, with a class for just about everyone. The Cardio Kickboxing is my favorite. My muscle strength and cardio is amazing just a mere year later, losing pants sizes does feel amazing, plus im not so embarrassed about my stomach area."
Rated 5.0 out of 5.0 on Face Book by David Crowson
"I have trained in many places, and speaking from experience this place is one of the best! The instructors are extremely knowledgeable and second to none and the atmosphere is great. This is the perfect place to grow and progress in any way you want to."
From Yelp, Jessi C.
"I had been going to Advantage Martial Arts for about 4 years and working with Scott and his group has been amazing."
From Hock Hochheim – head instructor/founder of Close Quarter Combatives
"Scott..THANKS! You were great!"
From David Dubrow – Video Production Manager, Paladin Press
"Your physical skills, positive attitude, and knowledge of the subject matter were invaluable, and I'm certain that your contribution will add significantly to the value of the resulting video."
From Snake Blocker – Muay Thai Kickboxing champion & Apache knife fighting expert
"Scott Pedersen is one of the top instructors in Colorado, breaking down each technique, so the student understands the importance of each move. Scott continues his journey in the martial & combat arts so he and his students never stop learning."
Find out for yourself why so many people love our school.

Latest posts by Synergy Martial Arts & Fitness
(see all)