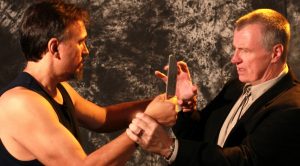 FORCE NECESSARY – UNARMED COMBATIVES CAMP
World traveling instructor W. Hock Hochheim is coming to Colorado and is holding a big unarmed combatives event here! It's a two day crash course in the ten levels of the 'Force Necessary: Unarmed ' module, covering the fundamentals of survival, with "tough mudder" style workouts.
Participants will be learning, working and demonstrating:
– good strikes (standing and ground)
– a variety of takedowns
– kickboxing that includes takedowns
– ground fighting and escapes from ground fighting
– counters to knife, stick and gun threat attacks
– 101 Nasty 'Worst Case Scenario' Combat Scenarios
All welcome. You will receive expert help if needed.
* You can come to the seminar to train for knowledge, have a blast of a time and get one hell of a workout.
* If you like you have the option of achieving rank in the Force Necessary system.
* In recognition of completing this challenging event, Mr. P. will (with the exception of a 3rd Degree Brown Belt or Black Belt rank) automatically promote any Self Defense TacTecs student up one level!
WHERE
The camp will be held here, at Synergy Martial Arts!
WHEN
Saturday August the 5th and Sunday August the 6th.
Both days 9 am to 4 pm.
COST
Any one day: $150
Both Days: $200
One "Tough Mudder" of a Weekend (But No Mud!)

Synergy Martial Arts and Fitness provides world class expert instruction in martial arts, fitness, self defense and weapons in a class, private and semi-private formats.

Latest posts by Synergy Martial Arts & Fitness (see all)