Kali Method Seminar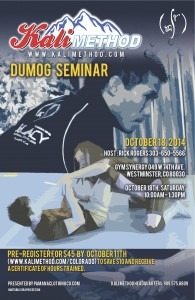 Hey guys, Kali method founder Jason Cruz, or JC, is heading out our way again on Saturday, October 18th.
Heres a little bit about the Kali Method system:
Kali Method
The process of acquiring intelligence, health, fitness, artistry, and martial arts prowess through Kali, martial art disciplines from the Philippine archipelago. Evolution is our Tradition.
Curriculum
Single Stick, Double Stick, Blade, Blade Grappling, Stick Grappling, Pangamot (Empty Hands), Kicking Art, Dumog (Filipino Wrestling), Philosophy, Ways to Improve your Quality of Life.
Styles and Seminars that have been and still are represented at Kali Method
Valencia Lameco, Jeet Kune Do, Filipino Kali, Balintawak, Dong Meyong Pangamot, Dumog (Filipino Grappling), Olisi, Muay Thai, Babao Arnis, Submission Kali, IMB Academy.
This is one of the most educational, not to mention fun, seminars to come to.
Pre registration on the Kali Method website is $45 and at the door is $55.
If you can, come out and grow as a Martial Artist, meet some like minded people and have a blast!!!
www.synergymartialartsandfitness.com

Latest posts by Synergy Martial Arts & Fitness
(see all)