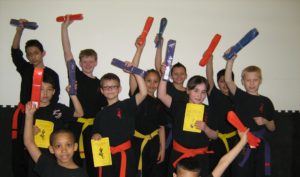 Testing for Kids Karate and Adult Self Defense TacTecs is this Saturday, the 29th.
Training sessions will start at their normal times but, instead of regular class, we will be running testing for each group instead.
10:00 am – Kids Karate
11:30 am – TacTecs
1:00 pm – Kids Intermediate
You are invited to come in 30 minutes early (before your class) as we will be running review sessions for each test.
See you Saturday!

Synergy Martial Arts and Fitness provides world class expert instruction in martial arts, fitness, self defense and weapons in a class, private and semi-private formats.

Latest posts by Synergy Martial Arts & Fitness (see all)