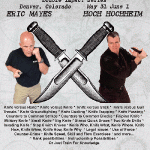 2 great instructors under 1 roof… Hock Hochheim & Eric Mayes are teaching an action packed seminar (Way of the Knife!) May 31st & June 1st.
Eric Mayes, a certified Martial Blades Concepts instructor (highest level), has vast knowledge and is very personable to work with.
Hock Hochheim is the founder of the 'Force Necessary' system of defense (a.k.a. Close Quarter Combatives).  I (Scott Pedersen) have been in the martial arts for over 25 years and, of all the people I've worked with, Hock has had THE greatest influence in my training.  I usually have to fly out of town to seek his expertise but Hock is coming our way this time!
WHAT: knife fighting and knife defense
WHEN: Saturday May 31st, 12pm-8pm / Sunday June 1st, 10am-4pm.
WHERE: Synergy Martial Arts and Fitness  (3049 W. 74th Ave. – A     Westminster, CO 80030)
Preregister with $100, pay the remaining $99 at the door and SAVE $51! $250 at the door.  Don't miss this great opportunity to train with two of the best.

Latest posts by Synergy Martial Arts & Fitness
(see all)