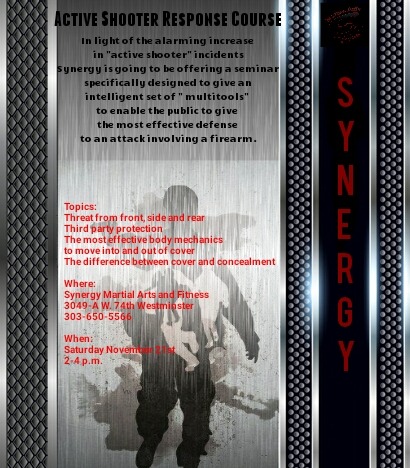 So in response to the dramatic increase in Active Shooter incidents and especially considering what just happened at Regis University, Synergy is going to be holding an special Active Shooter Response Course.
The course will cover the following topics:
* How to most effectively deal with a firearm threat from the front, side and behind
* Third Party Protection ( how to best defend another person who is in the line of fire. )
* The difference between cover and concealment

* How to use intelligent body mechanics to move into and attack from both cover and concealment
This course is open to anyone and everyone who might be interested in learning an intelligent solution to the problem of facing an attacker armed with a gun, so feel free to invite your friends, coworkers or family.

The material will include techniques from C-Tac, Krav Maga, Kali and Defensive Tactics taught to Military Special Forces, Law Enforcement and Security personnel and will be presented in an easy to learn "layering" format so we'll be taking things one step at a time and making sure everyone leaves significantly more prepared.

Here's all the information:
Where:

Synergy Martial Arts and Fitness
Only

Street clothes that allow a good range of motion
Training pistol ( if you have one )
This is fast becoming a vital area of study not only for Martial Artist and Self Defense practitioners but for the general public as well.
Space is limited so it is recommended that you preregister as soon as you possibly can.
Thanks guys and have an awesome week!!!

Latest posts by Synergy Martial Arts & Fitness
(see all)