Coming soon to a Dojo near you
Hey there guys,
Hope you're staying nice and warm this chilly Wednesday.
So there's a lot going on this next month here at Synergy,
First off were hosting one of the Legendary European Masters Dakilang Guro Jeff Espinous for a special seminar in the art of Kali Sikaran on Saturday November 7th.
Here's the details,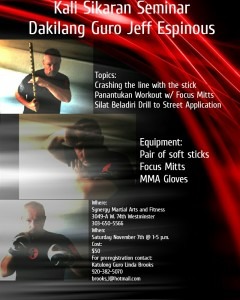 Where:
Synergy Martial Arts and Fitness
3049-A W. 74th Westminster
When:
Saturday, November the 7th
1-5 p.m.
Topics:
Crashing the line with the stick
Panantukan Workout w/ Focus Mitts
Silat Beladiri Drill to Street Application
Cost:
Only $50 to train with one of the best in the world!
To preregister contact:
Katulong Guro Linda Brooks
920-382-5070
And then later next month, Synergy is proud to offering an Active Shooter Response Course.
In light of the alarming increase in active shooter incidents were going to be offering a seminar specifically designed an intelligent set of "multi tools" to enable the public to give the most effective defense to an attack involving a firearm.
This is the same course giving to numerous Law Enforcement Agencies, Military Personnel and Security Professionals.
Topics: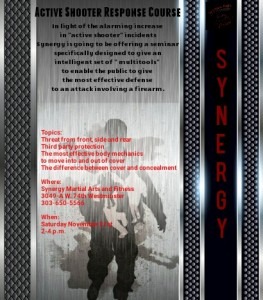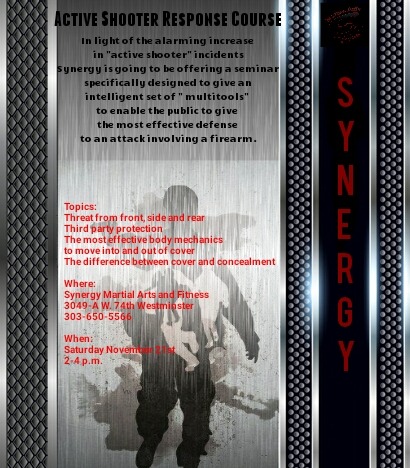 Threats from the front, side and rear
Third Party Protection
The most effective body mechanics to move into and out of cover and concealment
The difference between cover and concealment
Where:
Same as above
When:
Saturday, November 21st
2-4 p.m.
Equipment needed:
Training Gun (if possible)
Clothing that allows for freedom of movement
Cost:
$25 Preregistration
$40 at the door
(Note the normal cost for this course is $1000 however, as a public service were offering it at this extremely discounted rate.)
So, let anyone who might want to come out and take advantage of these world class seminars know about them and as always…you guys are awesome!!!
www.synergymartialartsandfitness.com

Latest posts by Synergy Martial Arts & Fitness
(see all)