Holiday Party and Schedule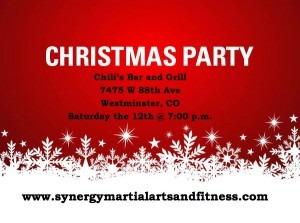 Happy Holiday Season everyone!!!
The annual Synergy Holiday Party is going to be taking place at the same Chili's Bar and Grill as last year next Saturday the 12th @ 7:00 p.m.
Here's all the info:
Chili's Bar and Grill
7475 W 88th Ave
Westminster, CO
just off of Wadsworth
Come on out and celebrate the season with your Synergy Family and like every year don't miss the rare opportunity to see
Mr. P and Dr. Rick in street clothes…LOL.
Also in observance of the Holidays the gym will be closed from Thursday the 24th and reopening on Saturday the 2nd with the all new, all daring new schedule!
There's a lot of new and exciting things coming next year, were adding not one, not two but three NuYu advanced metabolic bootcamps to the class schedule next year, an amazing new system called Kinetix Defensive Method or KDM is also going to be added on Mondays and Wednesdays which is a blended style based on Krav Maga, Dirty Boxing and Kali empty hand techniques.
A quarterly Tactical seminar is also going to starting next year with a specialty class held every 3-4 weeks to drill the applications from the seminars.
Best wishes to everyone and here's hoping your all having a wonderful time with your friends and family this festive season!!!
www.synergymartialartsandfitness.com

Latest posts by Synergy Martial Arts & Fitness
(see all)