Holiday Party and Schedule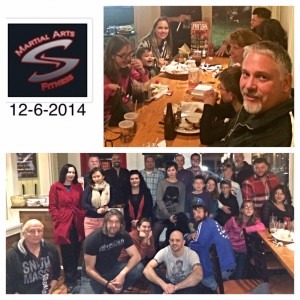 Hey all,
We wanted to say a big thank you to everyone who was able to come out to the Holiday Party and give everyone a reminder about the upcoming Holiday Schedule.
This years Holiday get together was the largest to date and we had a blast!!!
A special shout out to Nina for not only suppling some awesome pictures but for taking the time to put together the gorgeous collage in this post!
And now a quick word about the Holiday closures, all classes will be held as normal from now thru the Tuesday the 23rd then the Gym will be closed from Wednesday the 24th until we reopen on Friday, January the 2nd.
Side notes:
The Kali Testing is going to be held Saturday the 20th at the normal class time, if you're testing or want to test this time around, make sure you get together with Dr. Rick just to be on the safe side. This is the last test we'll be conducting this year so even if you're not testing come on out and cheer on your Synergy family as they go for the gold!!!
Also, the membership gift certificates are available until Tuesday the 23rd at an amazing 50% for up to three months and all Century products will be 10% off from now until the Holiday break.
Thanks again for being so incredibly awesome guys!!!
www.synergymartialartsandfitness.com

Latest posts by Synergy Martial Arts & Fitness
(see all)