How kids benefit from Martial Arts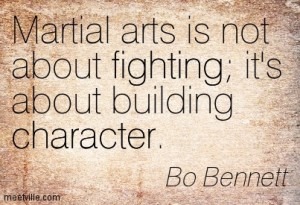 Hey guys, so this week we'd like to chat about How kids benefit from Martial Arts.
Besides the obvious advantage of knowing how to defend themselves, kids can get a multitude of benefits from training in the Martial Arts.
Here are just some of these:
Honor:
They get a true sense of what's right and what's wrong.
Growth:
Kids get a love of learning that can stay with them their whole lives.
Courage:
They learn to overcome fear and to preserver to do what's right.
Courtesy:
They learn how important it is to be polite.
Honesty:
Children learn the value of being truthful, cause let's face it, you can't say you practiced when you didn't. It'll show in class.
Confidence:
Kids get a deep sense of accomplishment when they move up in the belt ranks. This gives them an "I can" attitude.
Humility:
On the other side of confidence, they learn how important it is to be humble and to have the proper respect not just for their seniors but also for the lower ranked guys.
Self Discipline:
By the very nature of learning a Martial Art, kids learn to control their bodies and their minds. This is one of the greatest benefits a child can get from training and when instructed right will serve them in good stead their life thru.
And again this is just a partial list of the fantastic attributes children can get from training. One of our favorites things about kids who do the Arts is they do better in school on average, they have a higher percentage chance of going onto and succeeding in college and tend to accomplish more than a child who doesn't.
And time for the side notes…
This coming Saturday, to a Synergy Martial Art and Fitness near you, there's going to be a Fast Defense seminar from 1:00 to 4:00p.m. This is a awesome course to introduce someone to self defense or to give a more experienced practitioner some great verbal deescalation and some amazing practice on a "bullet man" suit to test out what works and what doesn't under stress. And remember Synergy members get to attend for half price!
Also Kali guys, bear in mind the test is fast approaching. If you have questions grab Dr. Rick or one of the Assistant Instructor and make sure who know that you know.
Hope everyone is having a fantastic week and remember…YOU ARE AWESOME!!!
Synergymartialartsandfitness.com

Latest posts by Synergy Martial Arts & Fitness
(see all)