Hiya everybody!
Seminar and Testing!!!
So this week we just wanted to take a minute and thank everyone that dressed up and came out to last Saturdays Halloween Extravaganza!!! You guys looked great!!!
Okay, now back to our regularly scheduled blog updates…
First off this Saturday we are hosting Dakilang Guro Jeff Espinous, the European head of the Kali Sikaran system for a special 4 hour seminar.
Don't miss out on this amazing opportunity to train with one of the best in the world!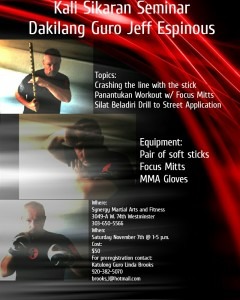 The seminar runs from 1:00 to 5:00 p.m. this Saturday the 7th right here at Synergy.
Side note:
DNA is going to start a half hour earlier @ 12:00 p.m. to let everyone get in on the seminar.
The cost is only $50
If you have them bring:
A pair of soft sticks
A set of Focus Mitts
and
MMA Gloves
Next up…testing
On Saturday November 21st both the DNA and TacTecs systems will be having a rank test.
Test are going to be conducted at the regular class times. Good luck to everyone testing and, like always, double check with Mr.P or Dr. Rick if you have any questions as to if your ready to test. A very, very limited amounts of private lessons are available to prep for the test if you have any doubts. Remember it's always best to know that you know your ready…
And last but certainly not least:
Also on the 21st, Synergy is going to be holding a special Active Shooter Response Course at 2:00 to 4:00 p.m.
Topics will include:
How to deal with threats with a firearm from the front, side and behind
Third party protection
(How to defend someone else when they're being threaten with a firearm.)
The difference between cover and concealment
The most effective body mechanics to move into and attack from both cover and concealment.
Cost is only $25 preregistered or $40 at the door.
Have a great week guys and remember…YOU ROCK!!!!
www.synergymartialartsandfitness.com

Latest posts by Synergy Martial Arts & Fitness
(see all)